A COLLECTION FOR DARK TIMES
Meet our new Dark Times Collection: a small capsule of high quality apparel, headwear and accessories to get you through these dark times in style.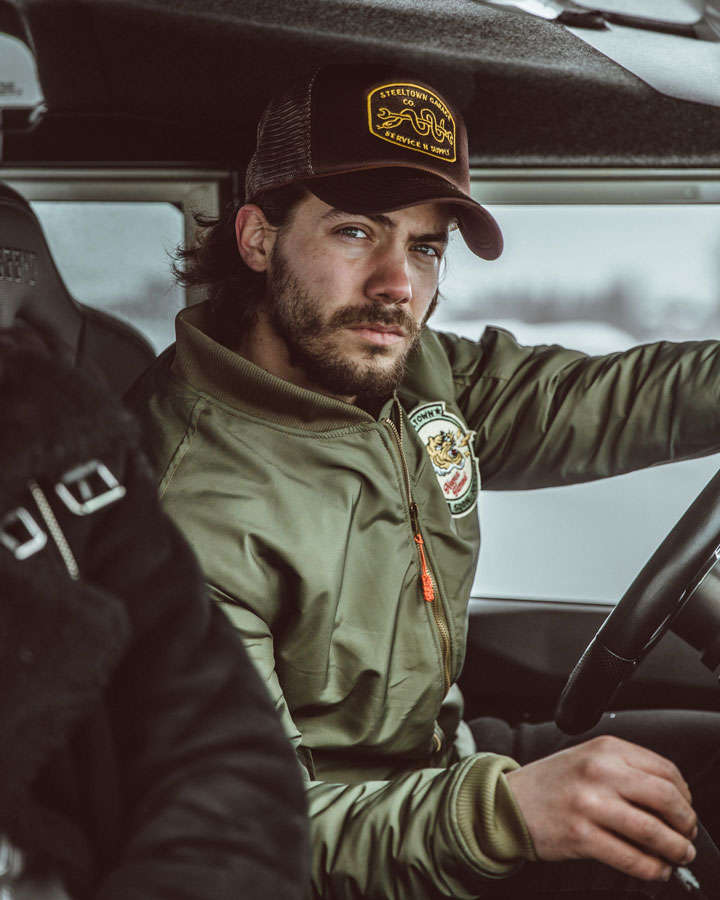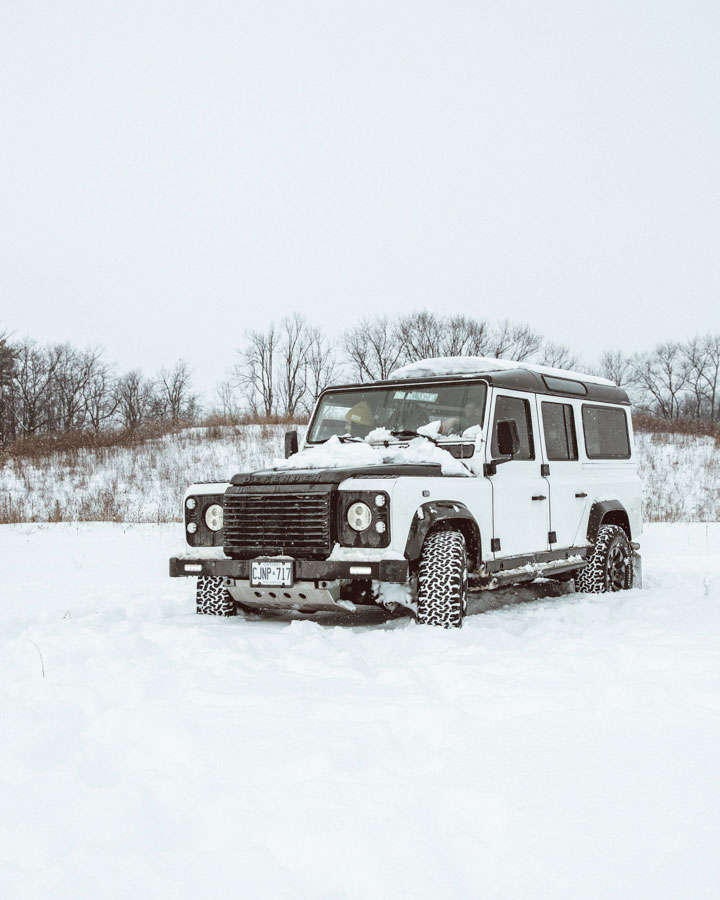 There are two kinds of people.
Those who hide from the winter and those who seek it out. In any country that is close enough to a geographical pole to freeze, you'll find them both: the one who prefers the warmth of the womb and the one who prefers the wild of the winter.
We don't usually resort to distilling humanity into categories like this. It's too generalizing. Beatles vs The Stones. Pepsi vs Coke. Zip Ups vs Pullovers. But there's just something about four feet of snow on the ground that can be polarizing. It can automatically shuffle people into one camp or the other.
We don't give a damn which one you are. Different strokes for different folks. But when it comes to designing and producing our Steeltown goods, we think of you who goes forth into the wild, you who embraces the elements, you there with the snow in yer boots and a smile on your face.

We design our products for the abuses of the wilderness. And our new Dark Times Collection is no different: hardwearing goods built to last.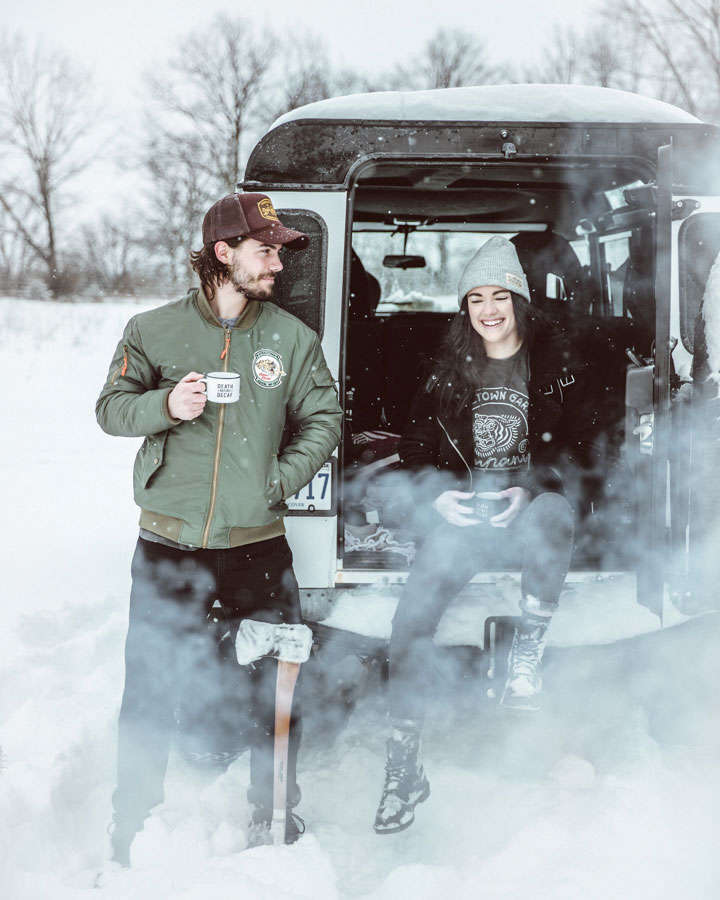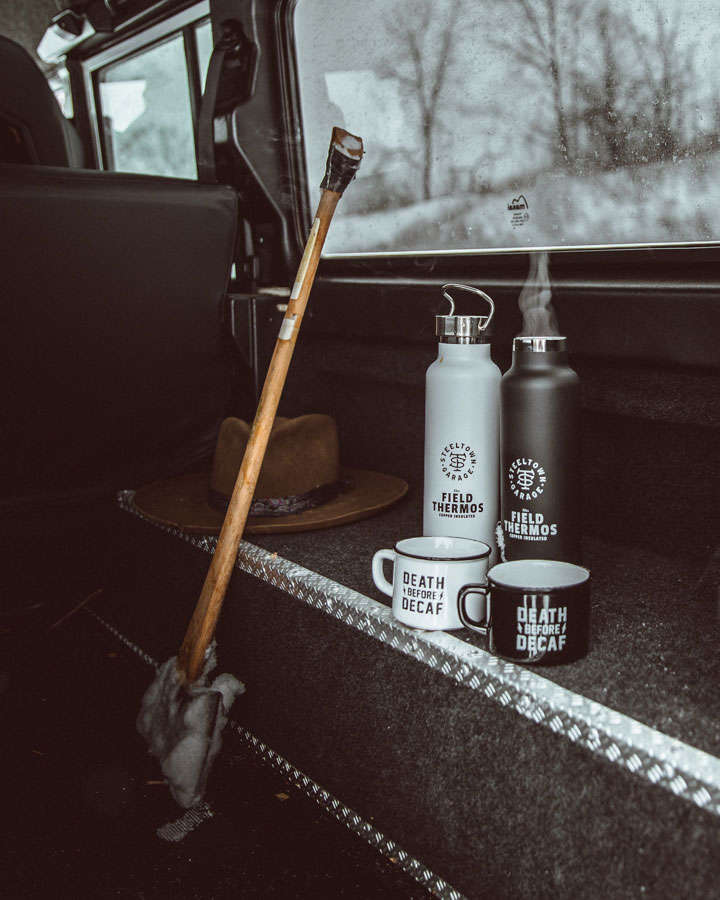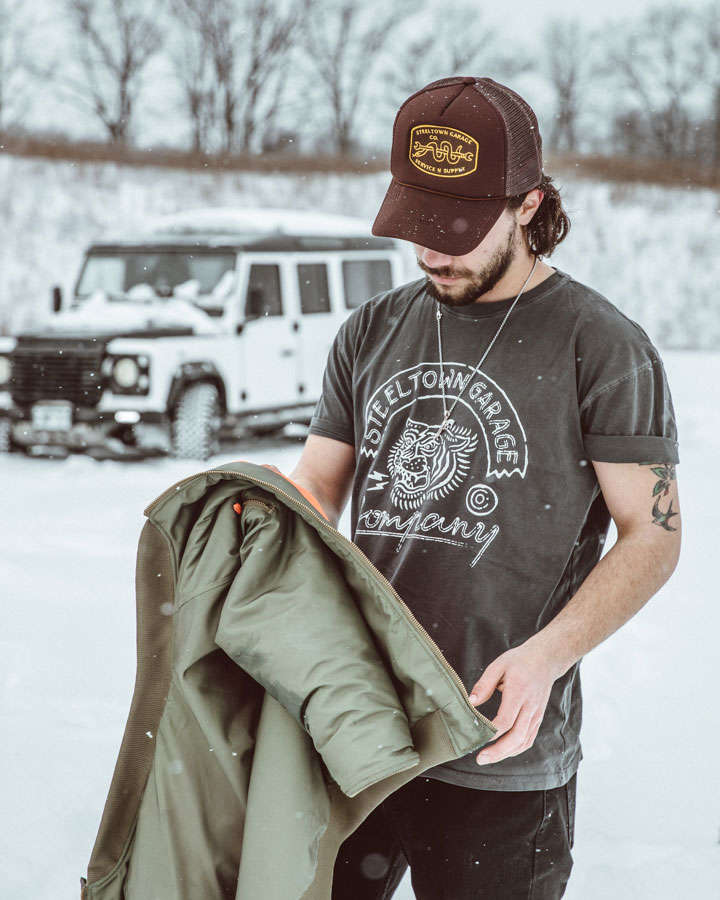 Garment Dyed Tiger Tee
A unisex shirt that fits like an old school vintage tee. Designed by us and screen printed right here in downtown Hamilton, the vintage garment-dyed Tiger Tee is made from 100% pre shrunk cotton and features a side seamed, lightweight classic fit with soft shoulder taping and a thin, vintage style crew neckline.


Designed by us. Printed here in downtown Hamilton.


BUY NOW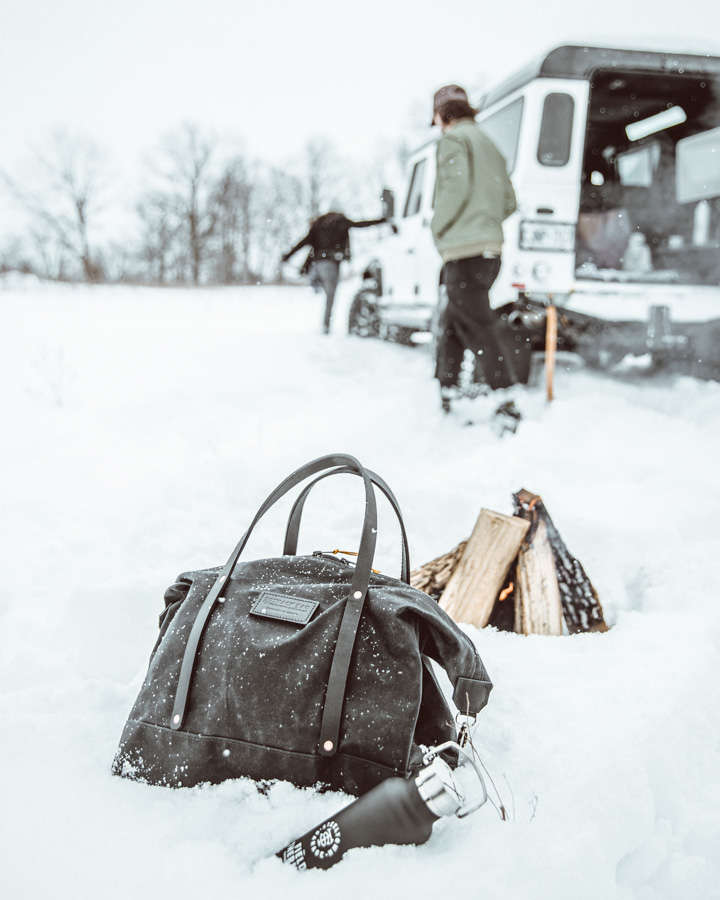 All Black Waxed Canvas Track Bag
With a clean cut silhouette and a minimal amount of material, the new All Black Steeltown Track Bag is both super lightweight and also easily compacted, making it perfect for your weekend in the mountains or a longer trip into the wild.

The base of the bag features double-layer waxed canvas for added durability and because the body of the bag is also 100% waxed cotton canvas, it's naturally weather resistant and waterproof.

Handmade in Canada in extremely small batches.
BUY NOW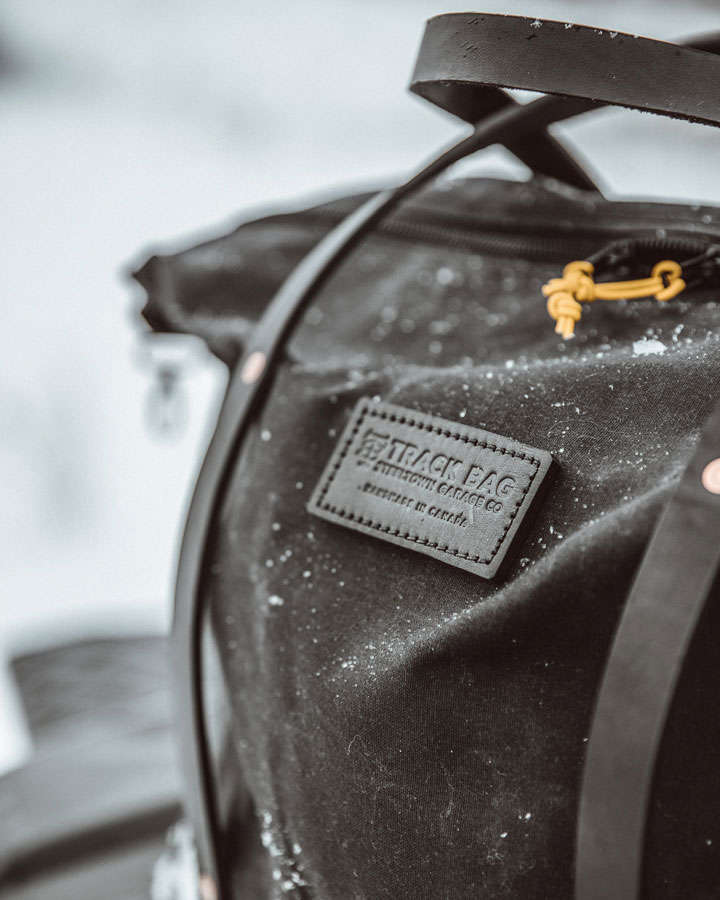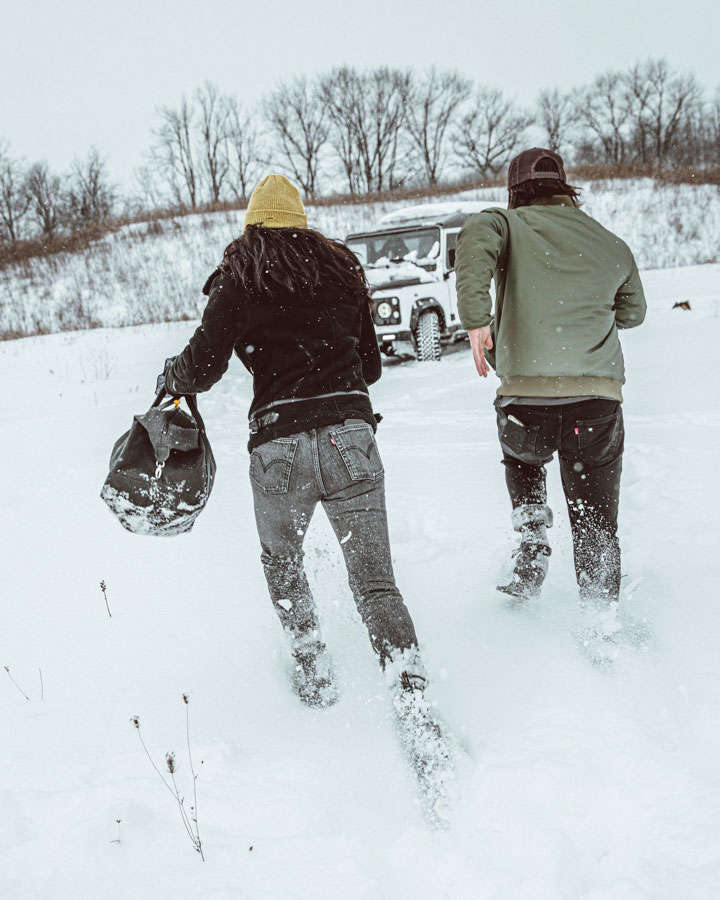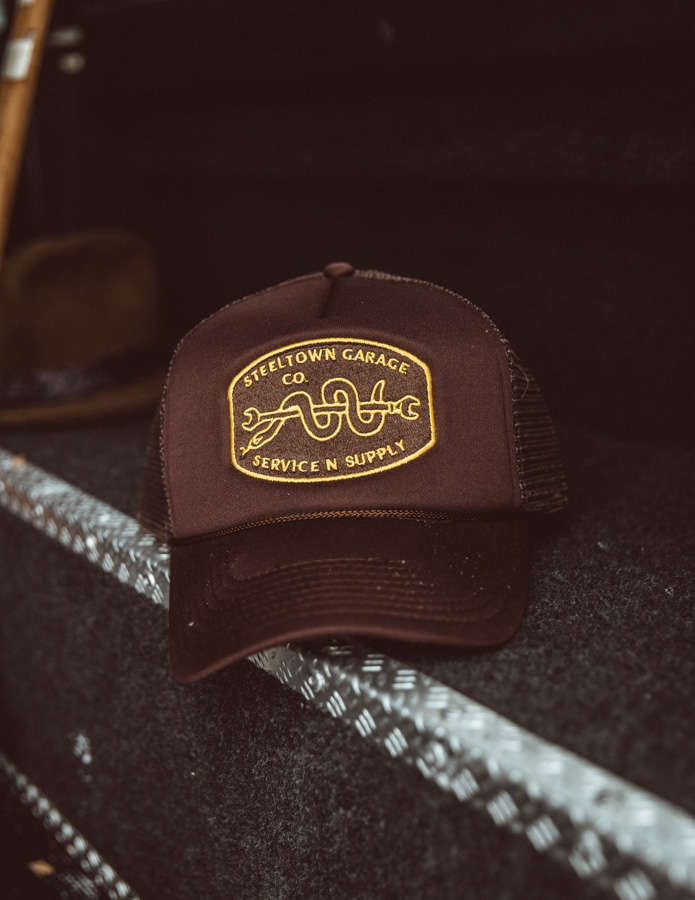 Snake & Wrench Trucker
Inspired by the old farm and feed hats that were popular in the mid-west during the 70s and 80s, our Snake & Wrench Trucker is equal parts a retro throwback and a badass garage-lifestyle trucker cap.


Finished in a deep, old-school brown with gold embroidery, our Snake & Wrench Trucker features a retro foam padded front panel, a nylon mesh trucker backing, a matching colour brain on the brim and a Terry cloth sweatband in the inside for those long sweaty days in the garage (or in the fields).
BUY NOW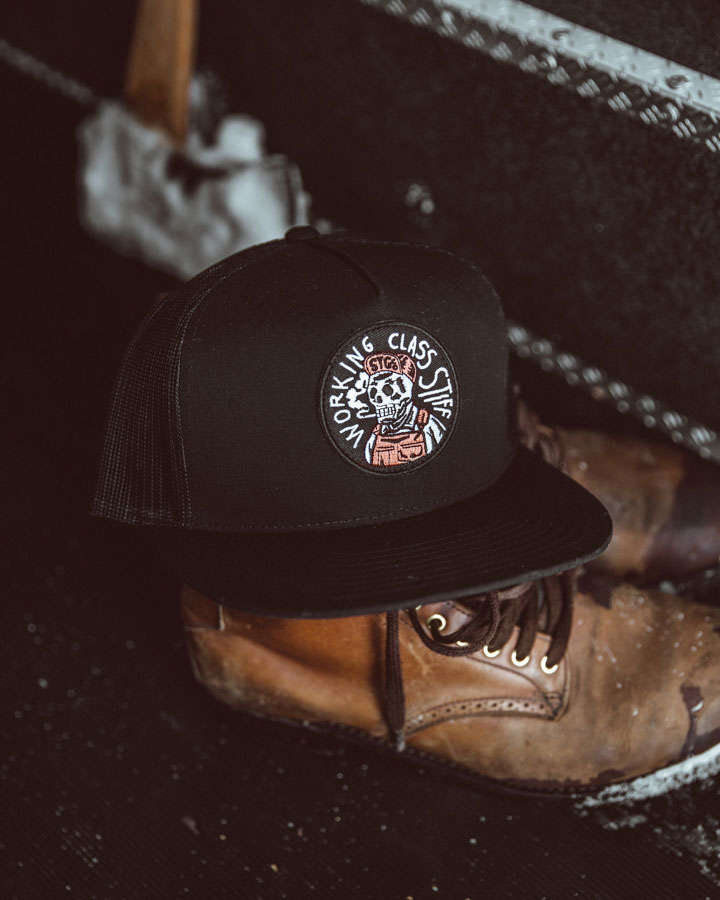 Working Class Stiff Snapback
Our Working Class Stiff logo patch stitched on to a premium 5-panel, structured, high-profile black trucker snapback. With a classic black undervisor, eight-row stitching and hard buckram backed front panels, this is a hat for the ages, a hat for the hard workers out there.


We're from a blue collar town. Where grease under your fingernails isn't frowned upon. Where a hard days work feeds the soul. Where it doesn't matter what your job is, all that matters is that you give it your all every day. We're working class stiffs. Our clothes may have holes in them, our boots may have steel toes and we may enjoy a stale half-smoked cigarette from time to time. But we're proud of it.
BUY NOW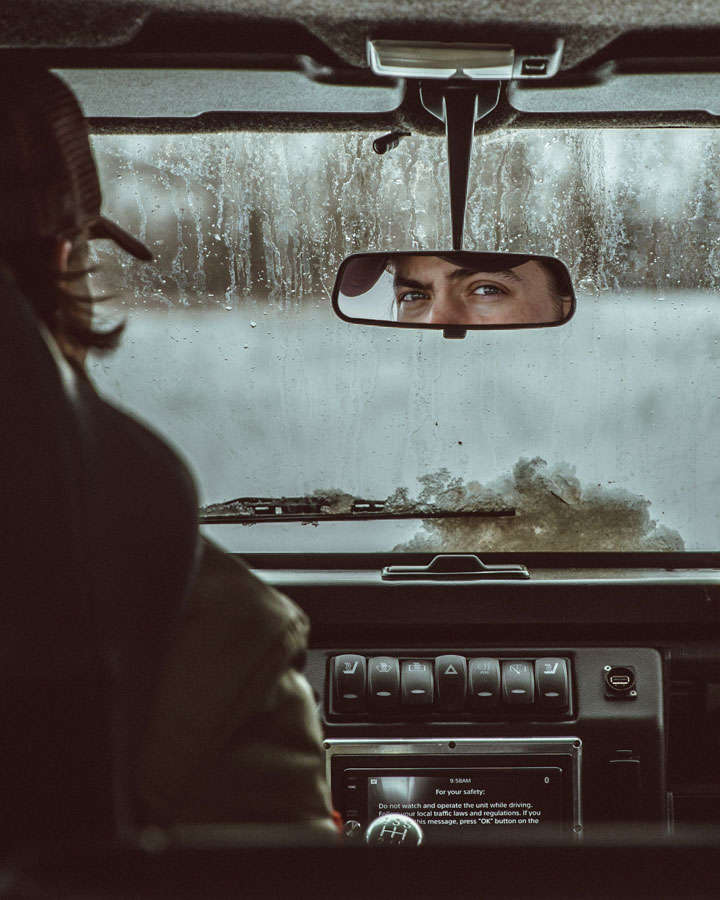 Get 10% OFF your first order with us
Sign up for our newsletter and you'll be automatically sent a 10% OFF coupon code just to welcome you to the fam.