STEELTOWN GARAGE Co.
Lifestyle Brand // Shopping Experience // Specialty Coffee Shop

Since 2017, we've been designing premium apparel and accessories, serving great specialty coffee and espresso and championing the free spirits of the world. Those who rebel against conformity. Those who break the mould. Those for which new moulds must be cast.

We're on one helluva ride. Come with us.
OUR BRAND
QUALITY GOODS FOR FREE SPIRITS
We started out in the summer of 2017 just making graphic tees and snapbacks. But the demand for Steeltown stuff became too intense to ignore. So we got to work and started looking at Steeltown Garage Co. as a fully-fledged lifestyle and clothing brand.

Today we're busy designing and manufacturing quality apparel with a focus on heritage quality and rugged fabrics that are built to withstand the abuse of post-modern life. From chain-stitched Car Club Jackets to Heavyweight Cotton Henleys to Made-in-Canada Field Boot, we're making stuff that we're proud to wear and sell.

We also produce waxed canvas duffle bags, armoured motorcycle gloves, premium skateboard decks, heavy duty field thermoses, anorak jackets, a whole range of coffee accessories and more.

But it's never been just about the brand. It's about the people who inspire it, the people who interact with it and the people who follow along from all over the globe.
CHECK OUT SOME RECENT DROPS
GET 10% OFF YOUR FIRST ORDER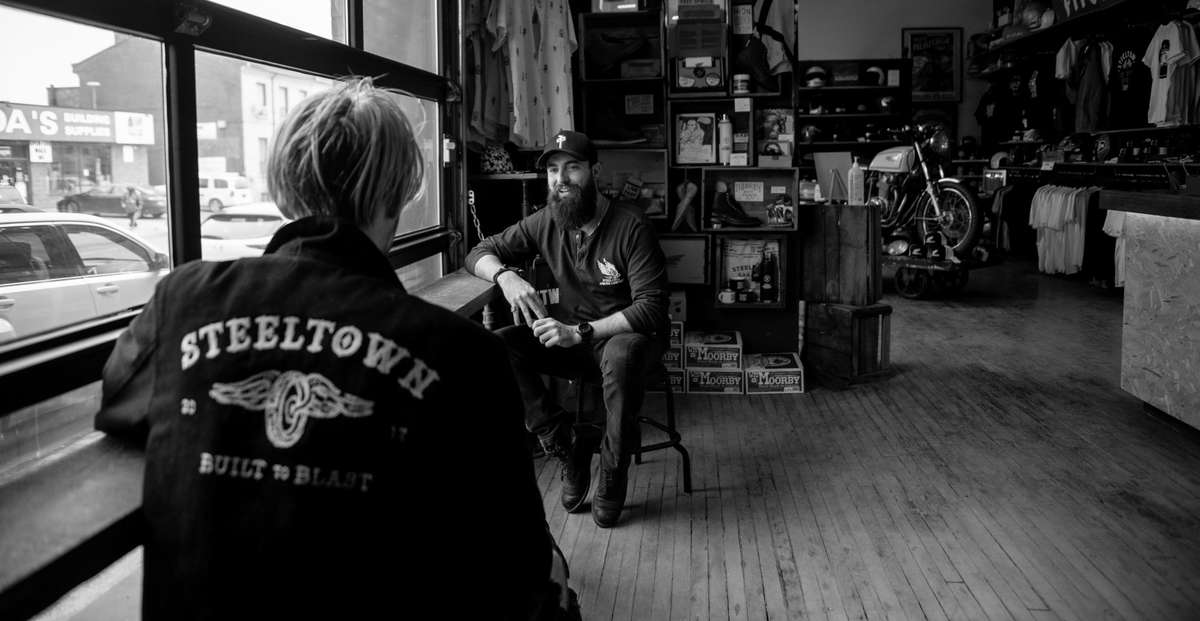 Inside Steeltown Garage, we've got a kick-ass coffee bar where we serve some of the best traditional americanos, lattes, espressos and cappuccinos in town. And yes, we've got free Wifi. We're also famous for our homemade biscotti (crafted lovingly by the owner's dad).

While seating can be limited in our busy little house of free spirits, it's a coffee shop where the music is often too loud, conversations with strangers lead to epic friendships, and the threat of addiction to our coffee is a very, very real thing.

Everyone is welcome. Bike or no bike.