LOST TRIMS: The Dodge Dart "Hang 10"
This fun, surfer-friendly option package was a hit when it was introduced in the bone-chilling Chicago winter of 1973. And we're big fans.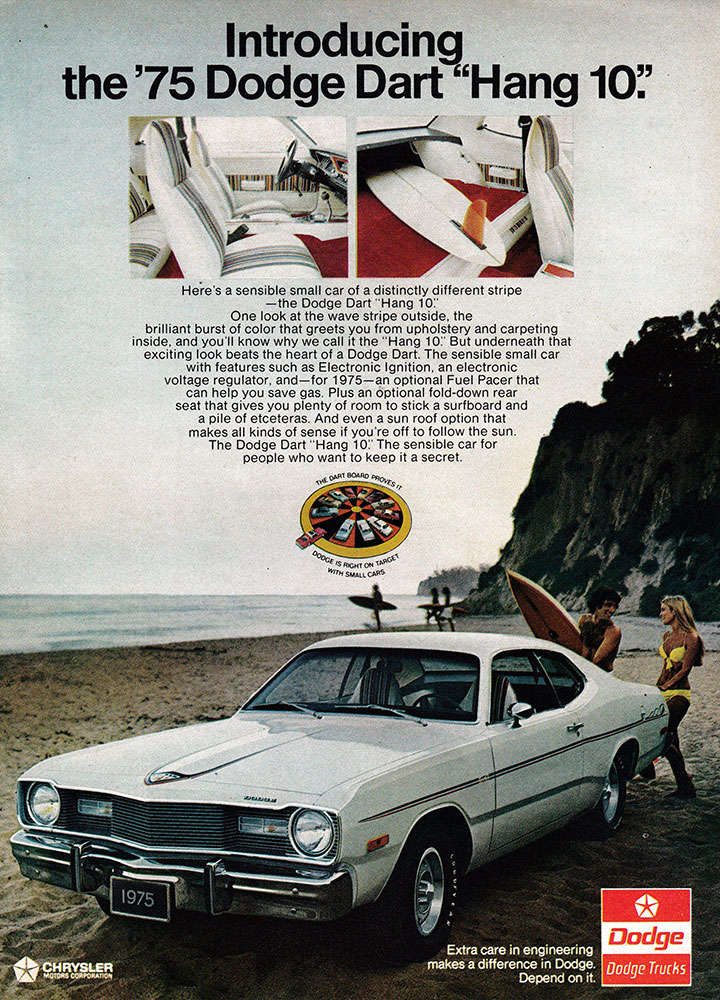 Introduced in the chill of February 1973 at the Chicago Auto Show, the Dodge Dart Hang 10 concept warmed show-goers' hearts with its sunny surf-themed presentation, surrounded on its well-lit platform with surfboards, parasols, sand and all other manner of beach paraphernalia.


Clearly it struck a chord, because a year later, midway through the 1974 model year, Dodge launched the Hang 10 as a special $254 trim option (code A63) on the Dart Sport.


All Dart Hang 10's were painted EW1 Eggshell White and given a patriotic blue-and-red pinstriping decal down the side. "Hang 10" was spelled out in the decal just in front of the doors, and at the tail the striping morphed into a groovy stick-figure surfer dude riding some gnarly waves.


The hood had a similar red-and-white surfboard-shaped decal with "Hang 10" spelled out at the hose. Y'all know we love a good retro decal. So these Hang 10's are right up our alley.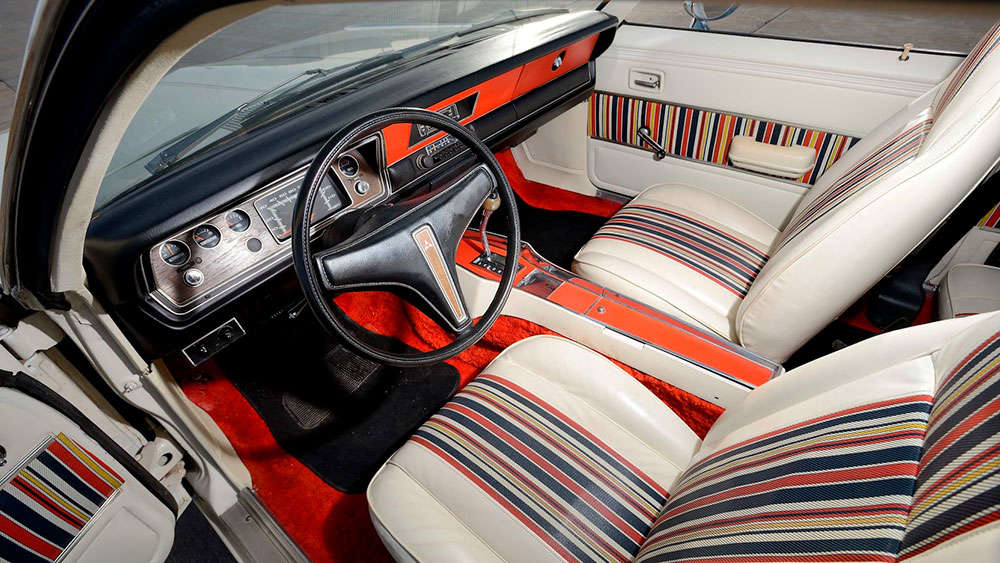 But it was really the interior that got people jazzed up. To a standard white vinyl interior, Dodge added orange shag carpeting; an orange face on the top of the console and the front of the dashboard, and a brightly-striped woven vinyl section was added to the bucket seats, door panels and rear interior panels.

And the orange shag extended to the seat back and trunk divider (more on this radness below). An extra $178 would get you a sunroof on your Dart, and $88 would buy a half-vinyl top.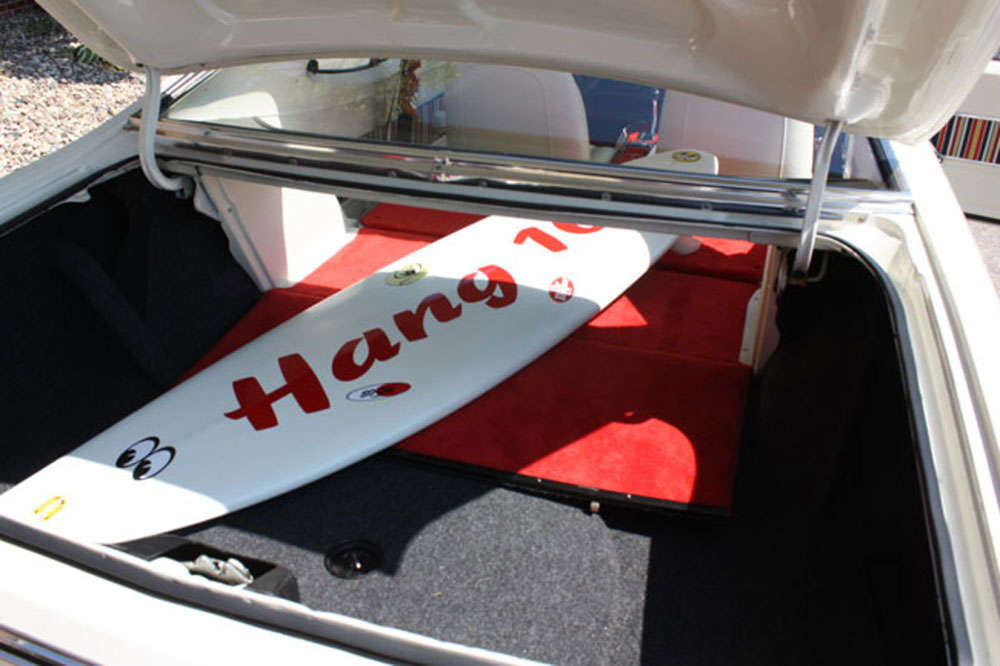 If you really did want to take your surfboard with you to the beach, you were in luck. The Hang 10 Darts featured the fold-down "Convertriple" rear seat arrangement that Dodge made available on its Dart Sports.

The set-up used a rear bench seat that folded down flat, and a hinged door between the back seat area and the trunk. You could drive with the rear seat up, rear seat down but with the trunk closed off, or you could open things all the way up and have a pseudo-station wagon.

With the seats and the divider folded down, a longboard would actually fit.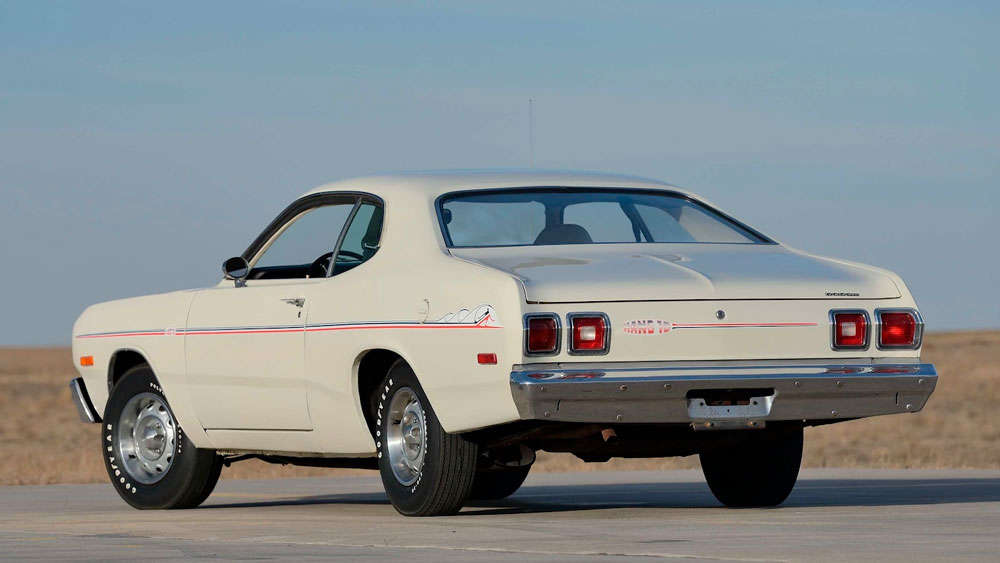 The 225-cid, 95-cid "Slant 6" and a 318-cid V-8 that produced 145 were the two standard engines for the Hang 10 cars, although buyers could pony up for the 360-cid V-8 with dual exhaust if they wanted a little more gusto. Overall, the six-cylinder power plants were much more popular among Dart buyers than the V-8s.
Three years ago, one of these Hang 10's actually came up
for sale
on Craigslist in the states. The seller wanted $7,975. Granted it needed some love.