HOLIDAY GIFT GUIDE
CAFFEINE & COFFEE LOVERS
Perfect gift ideas for that special coffee fiend.
CAFFEINE & GASOLINE: WHAT ELSE IS THERE?
At Steeltown Garage Co., it's all about coffee and classic vibes. So whether you ride a motorcycle or not, at least there's some seriously good coffee waiting for you at 8 Barton Street East.

The best part? We sell our premium roasted coffee beans, both as whole beans as well as pre-ground, and we also sell all the various bad-ass mugs and accessories we use here in the shop. If you have to buy a gift for someone, and you're just not quite sure what to get... get some coffee stuff. Everyone loves coffee.
COFFEE MUGS & CUPS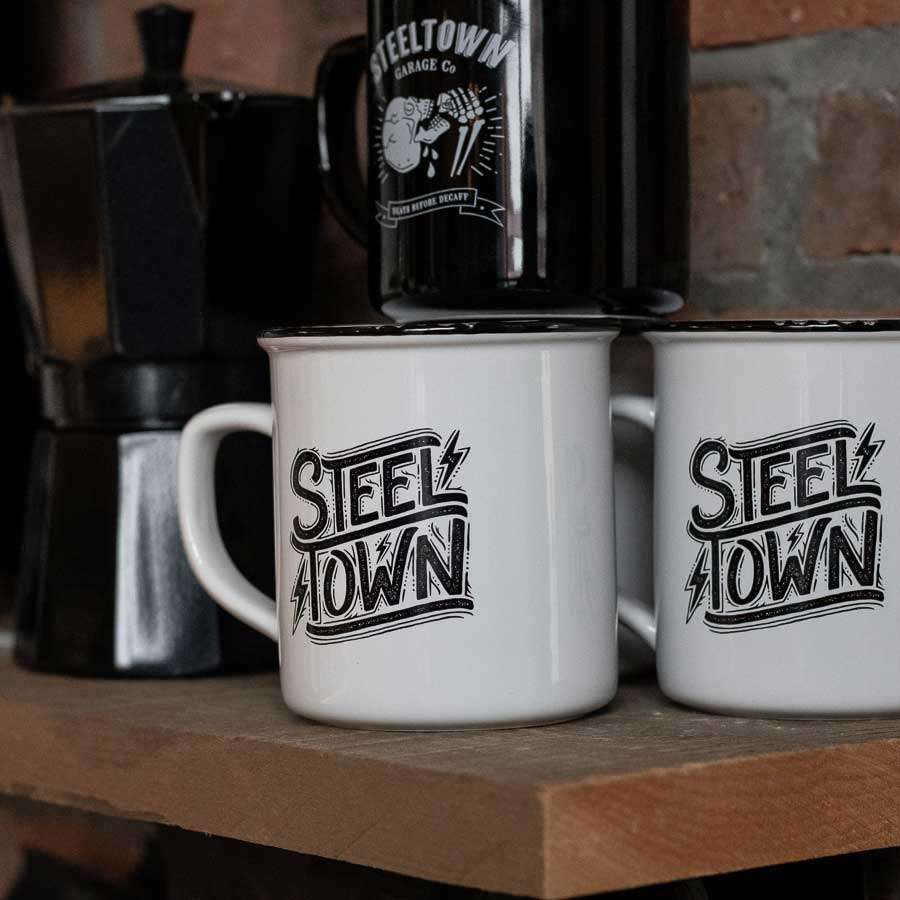 14oz Steeltown Bolt Coffee Mug
Made of durable stoneware yet reminiscent of old-school tin cups our Lightning Bolt Coffee Mug features our new stacked bolt design and is perfect for coffee lovers.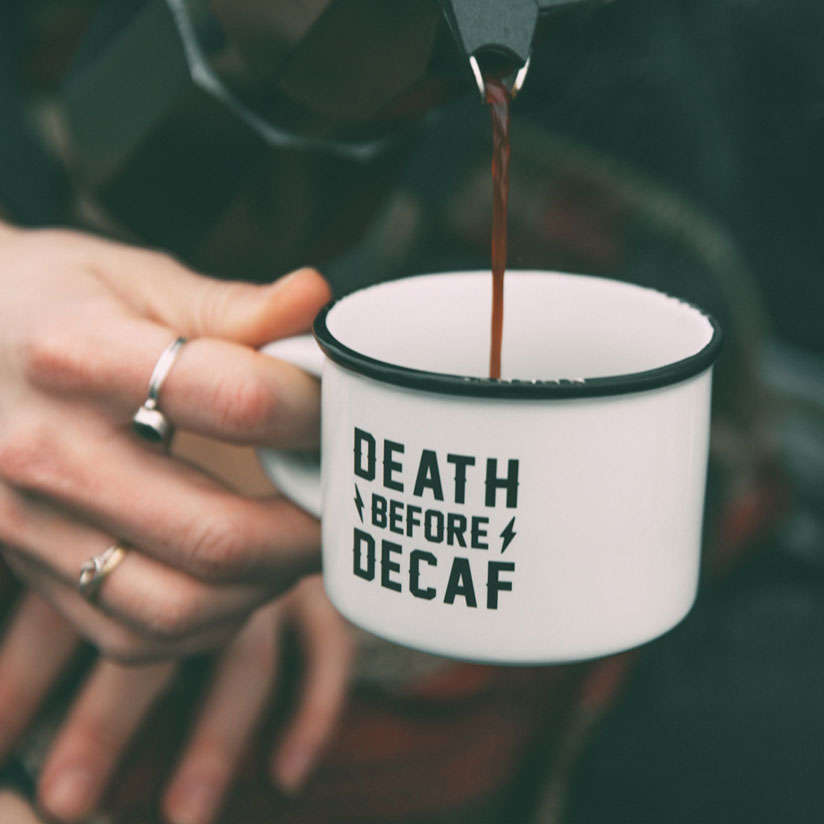 8 oz Death Before Decaf Mug
This durable stoneware camp mug features our crazy popular Death Before Decaf graphic and is perfect for the garage, office, campsite or breakfast table.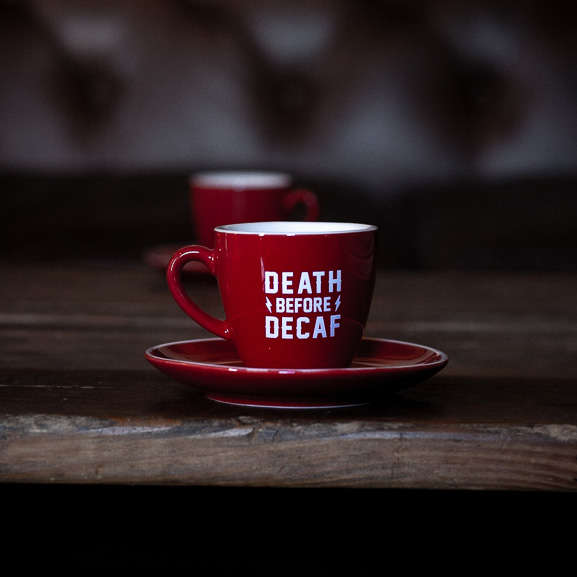 Red Death Before Decaf Espresso Cup
We only made 75 of these crazy cool Red Death Before Decaf Espresso Cups just for Christmas time. Ideal for that perfectly pulled shot of speciality espresso.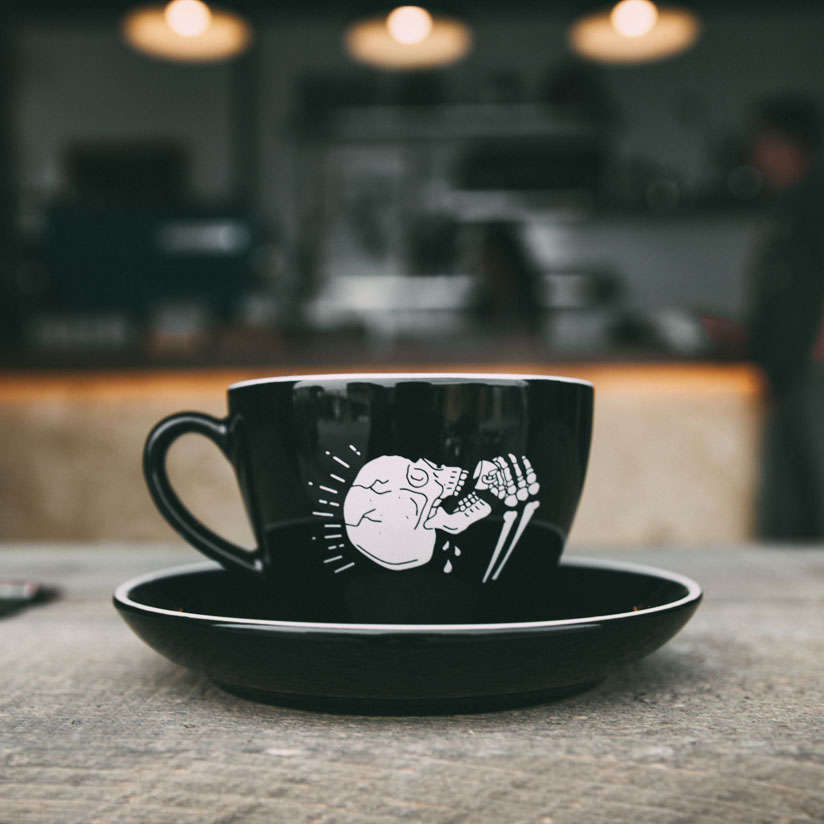 9oz Chugging Skull Latte Cup
This latte cup's thick commercial grade black porcelain ensures that your lattes and cappuccinos stay warmer for longer. Matching saucer included.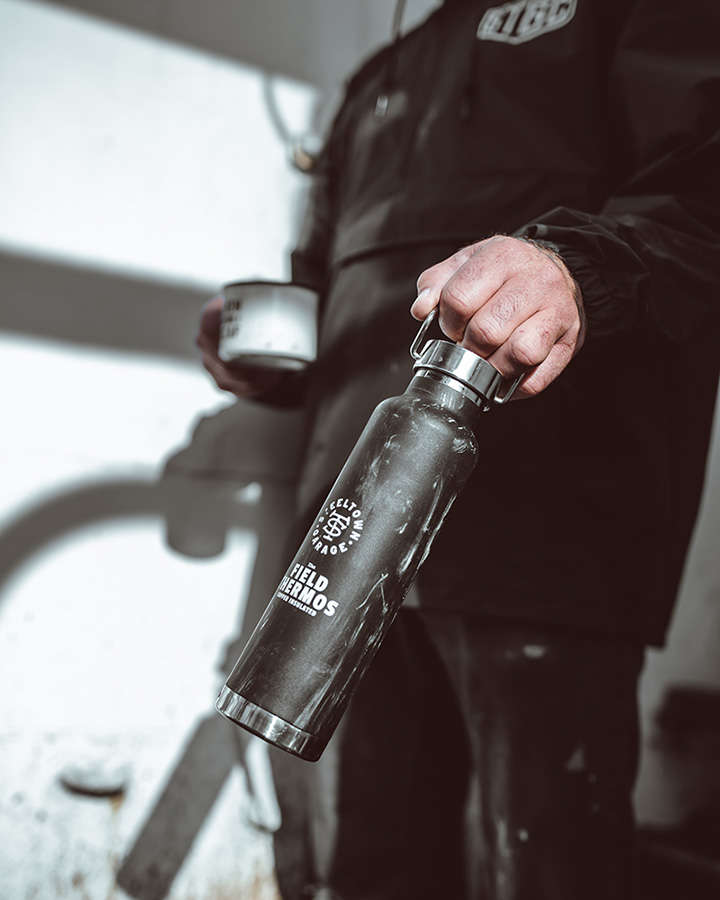 COPPER INSULATED
FIELD THERMOS
Keeps coffee hot for 12 hours!

Our new 22oz. Heavy Duty Field Thermos is the perfect adventure companion. Featuring double-wall stainless steel vacuum construction and premium copper insulation, the Field Thermos is capable of keeping your coffee steaming hot for at least 12 hours (and cold water cold for 48 hours!)
BUY NOW
SPECIALTY COFFEE BEANS & GRINDS
All of our specialty grade Steeltown Garage Company coffee beans and grinds are organic, certified fair-trade and small-batch roasted right here in Ontario just for us.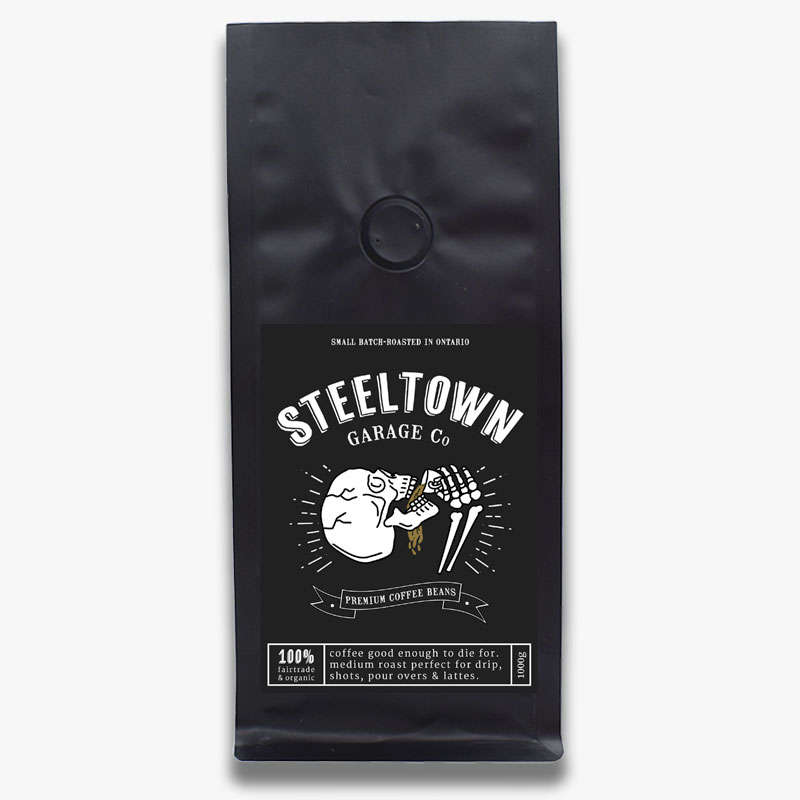 Steeltown Coffee Beans 1kg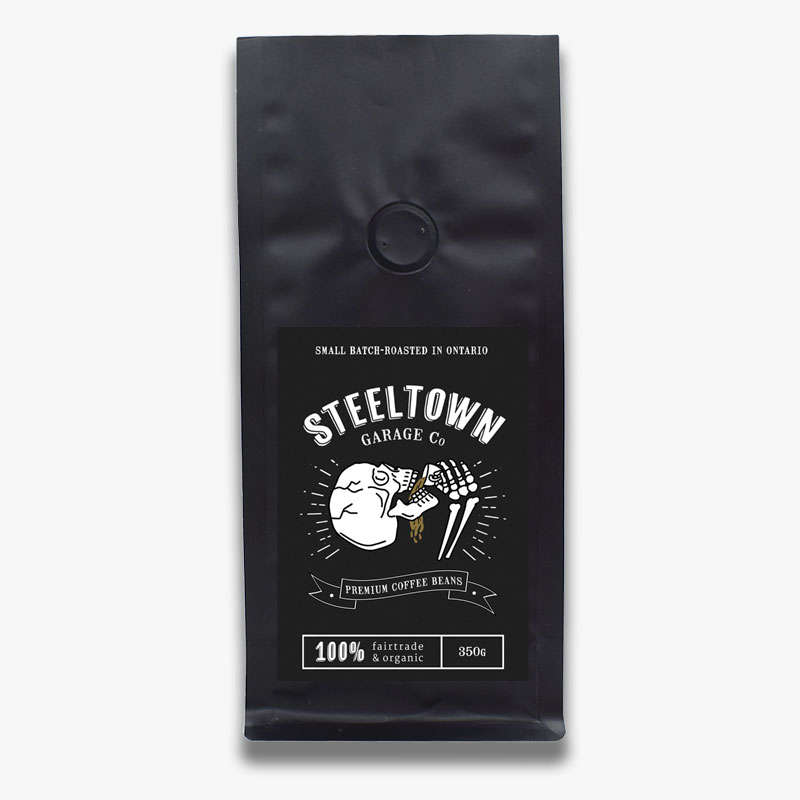 Steeltown Coffee Beans 350g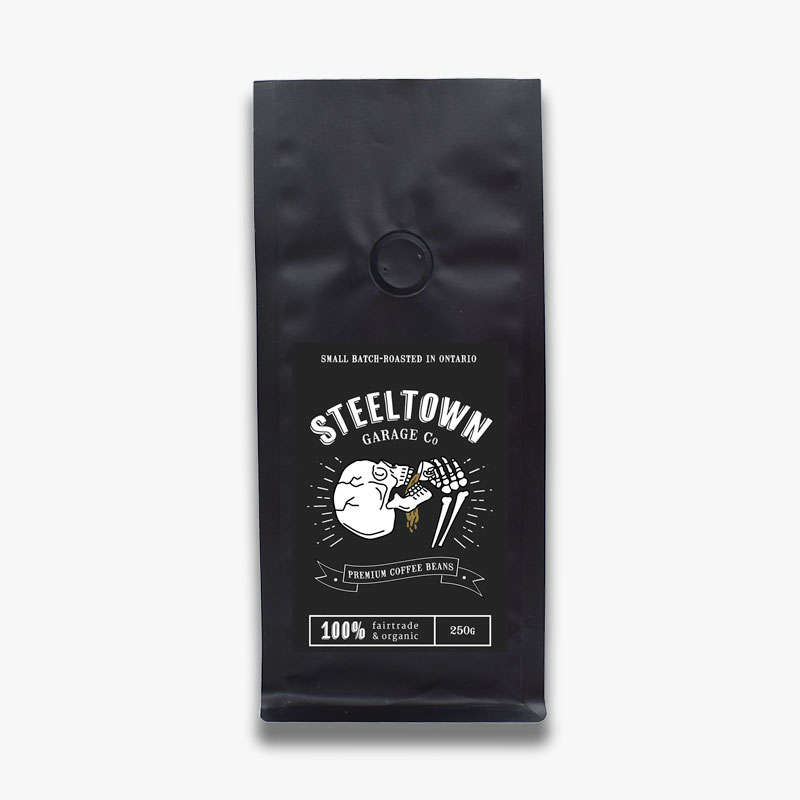 Steeltown Coffee Beans 250g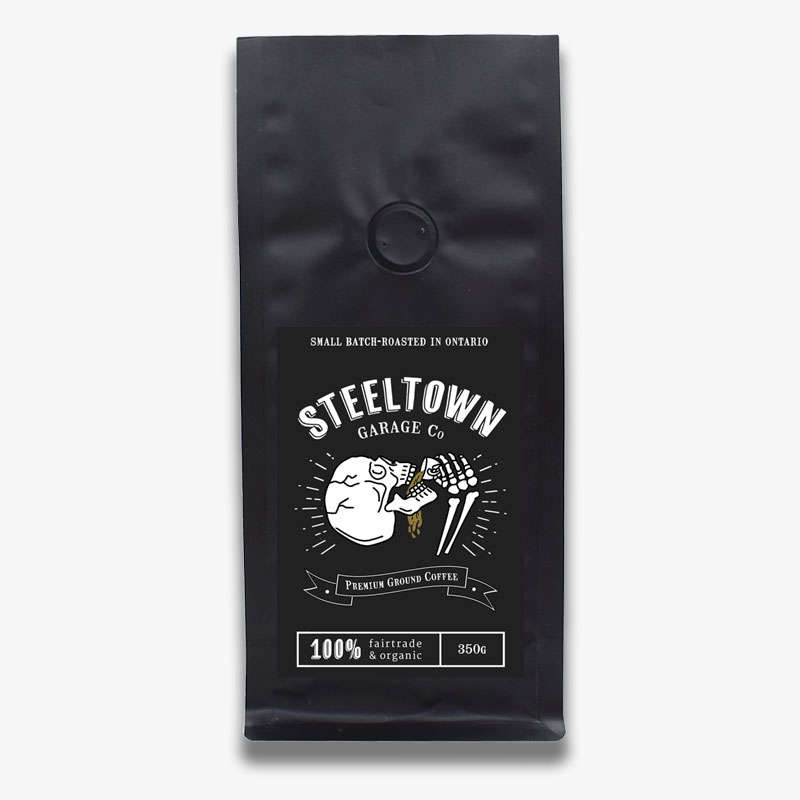 Steeltown Ground Coffee 350g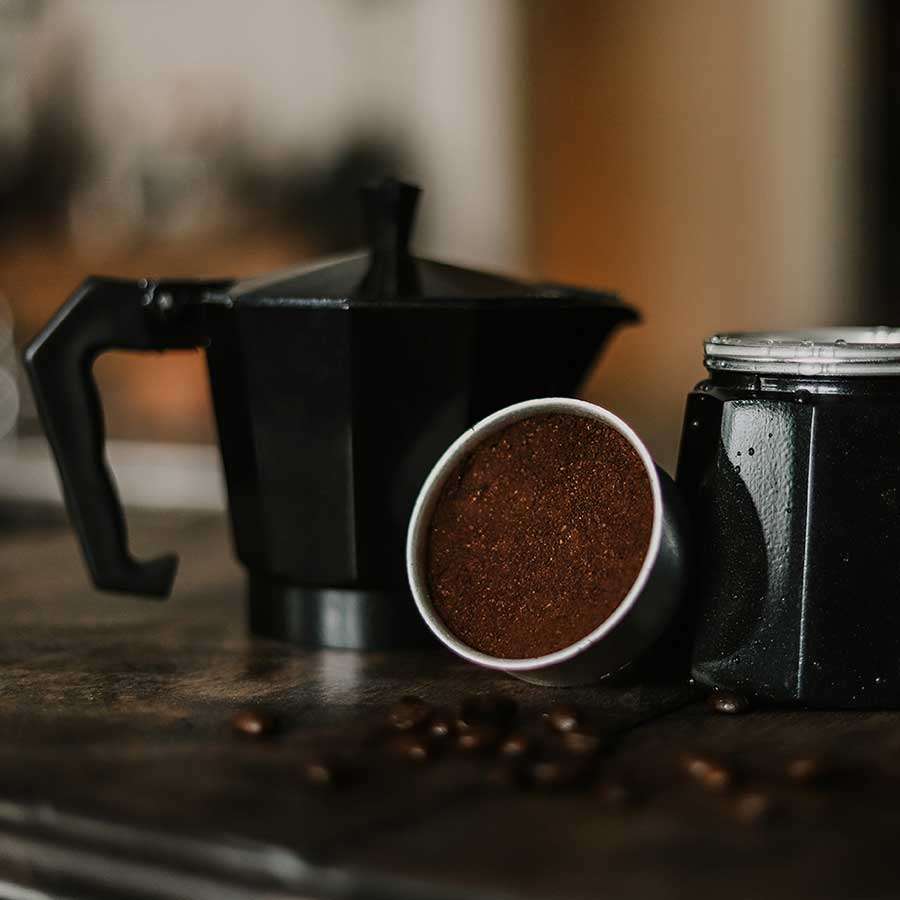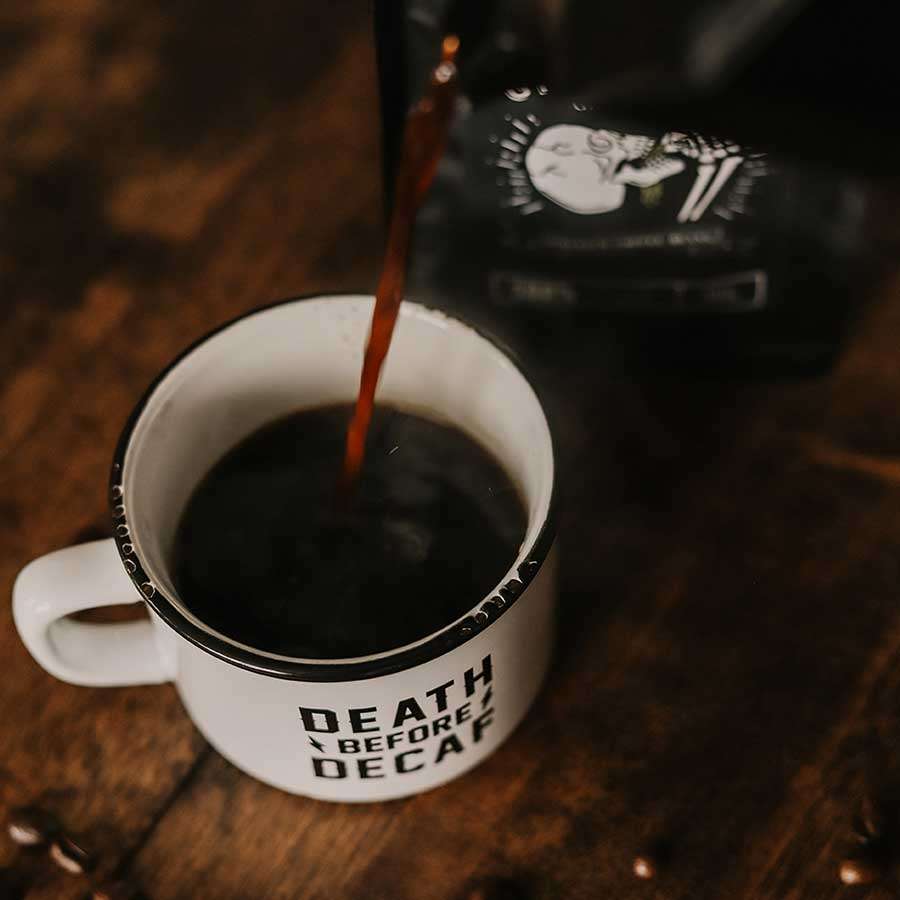 RANDOM BUT RAD COFFEE STUFF
OK. So that special someone has all the mugs they need and they've already got a decent coffee hookup. Any of these coffee-related items is sure to be a hit for any coffee lover.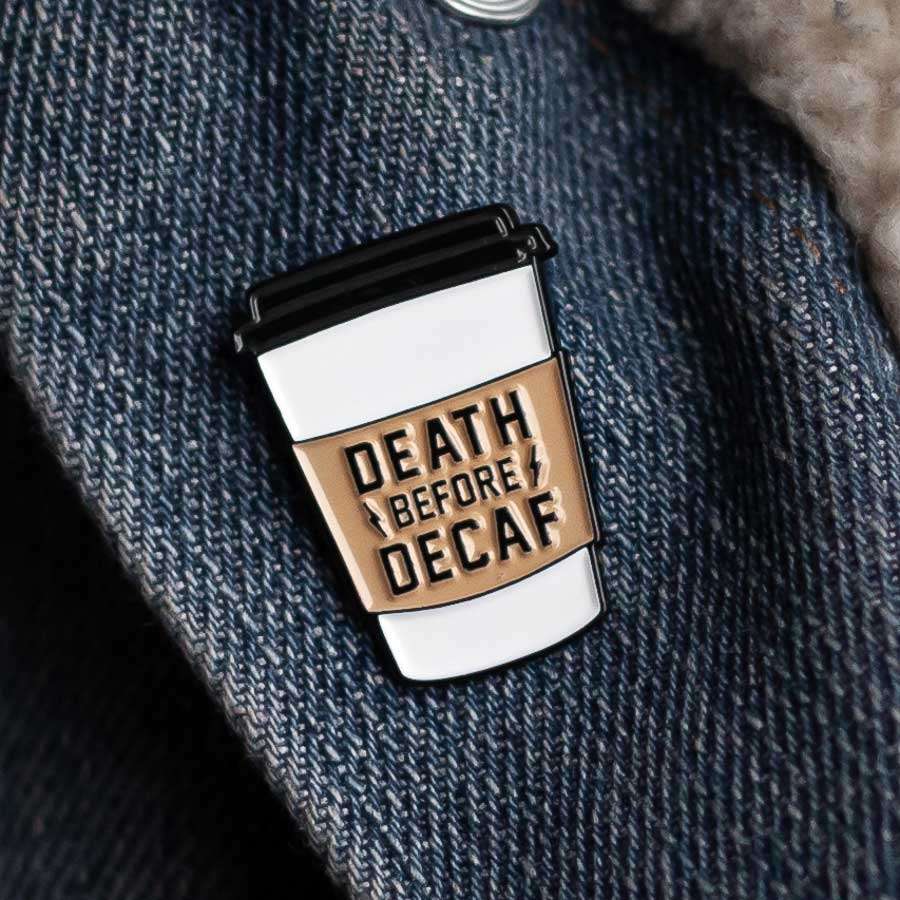 Death Before Decaf Enamel Pin
An exact replica of our iconic, no-frills take out coffee cup. This 1 inch hard enamel pin is a perfect piece of flare for any coffee lover.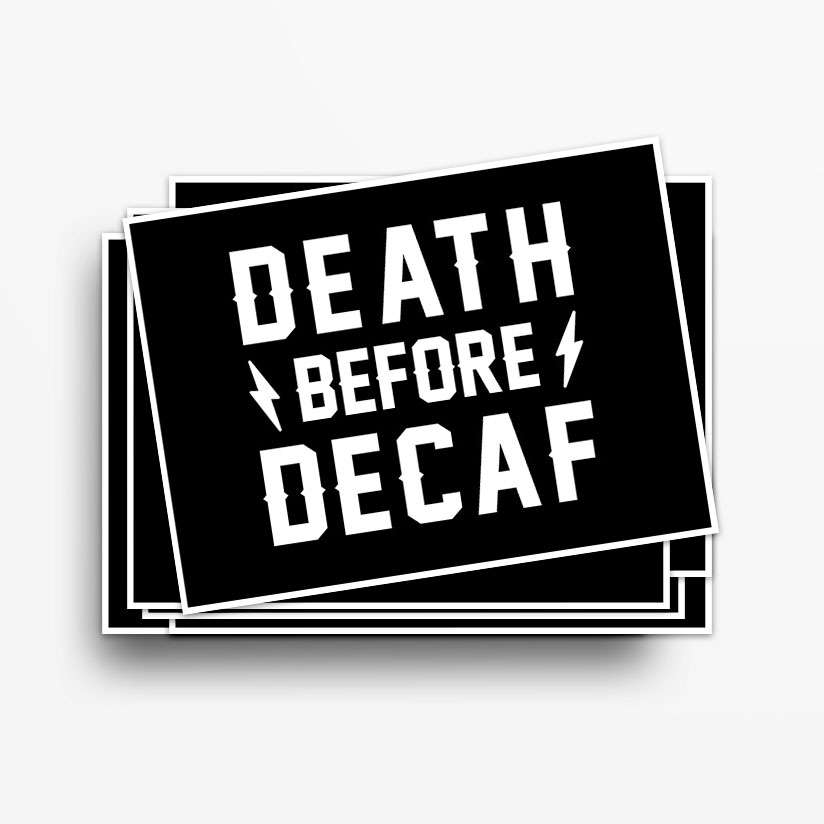 Death Before Decaf Vinyl Sticker
A classic sticker that never goes out of style. The Death Before Decaf vinyl sticker is weather proof, water proof and will stick to anything.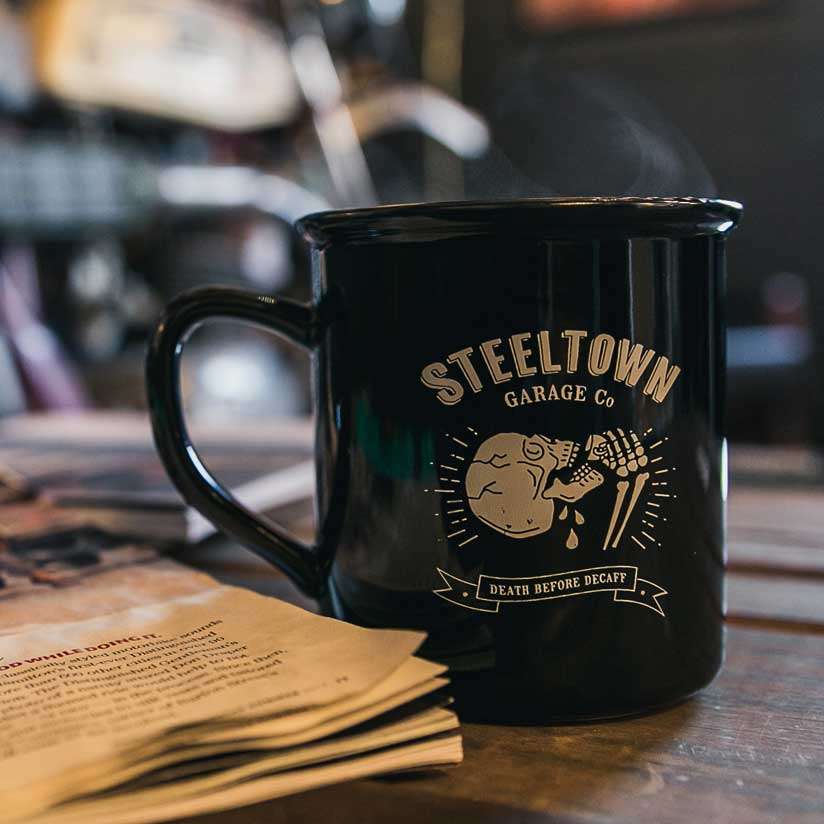 Steeltown Skull Logo Coffee Mug
Our very first coffee mug and still our best seller. Durable stoneware, distressed details and a rad graphic of a skeleton chugging coffee.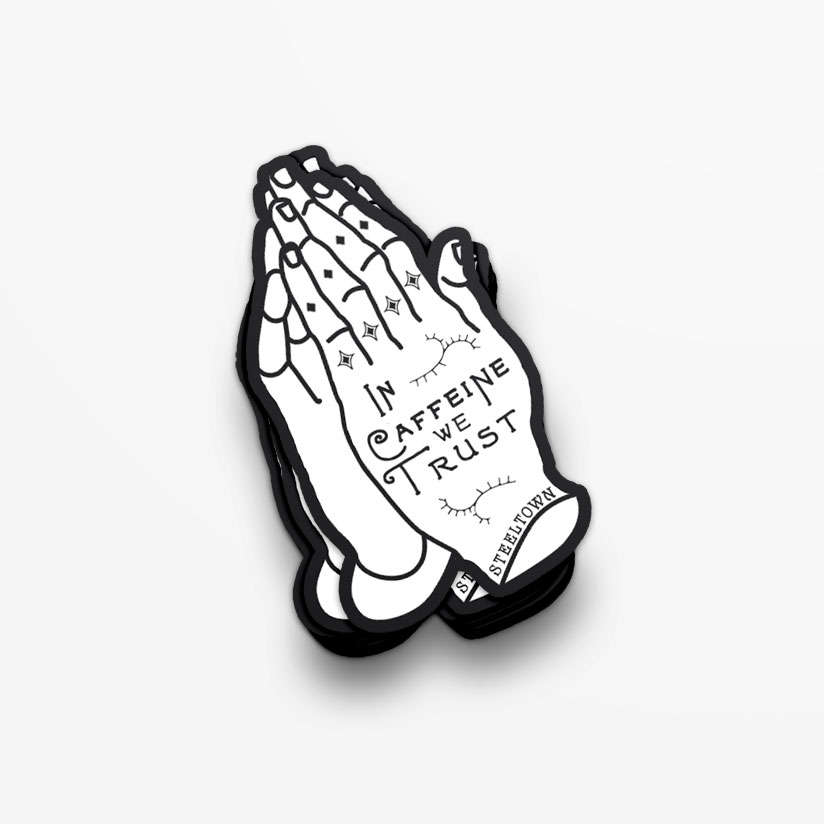 In Caffeine We Trust Vinyl Sticker
A classic sticker that never goes out of style. In Caffeine We Trust vinyl sticker is weather proof, water proof and will stick to anything.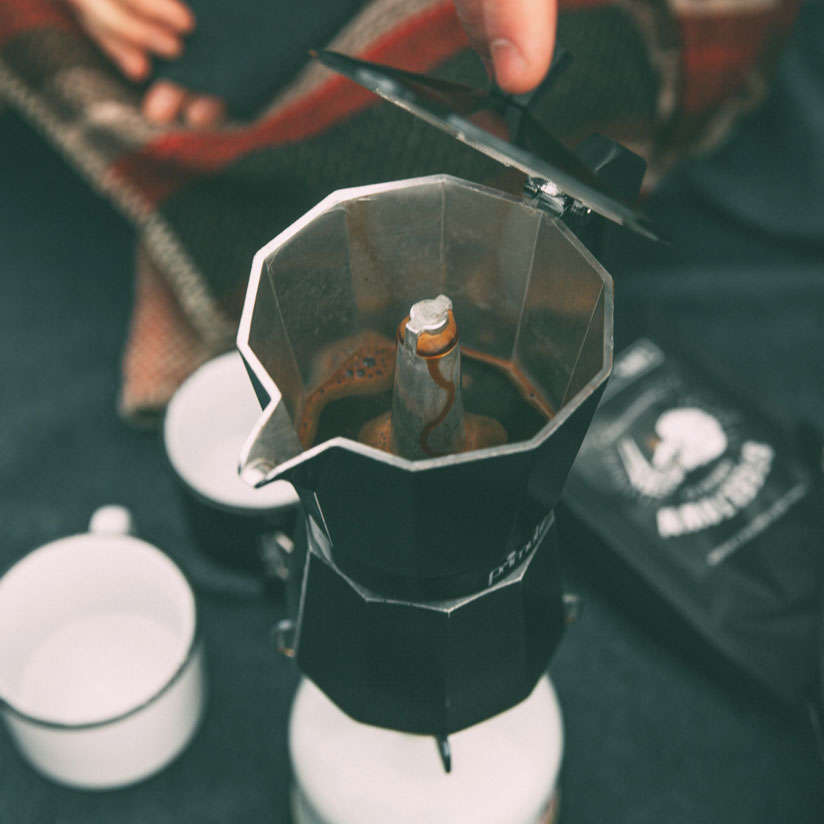 OLD SCHOOL MOKA POT
Our heavyweight aluminum stove top coffee maker is compact, efficient and easy to use. The box contains easy step by step instructions to make the perfect cup of espresso every time.

Perfect for those looking to make a great cup of coffee while outdoors, camping, hiking or just at home on the stove top like Nonno.
GET A MOKA POT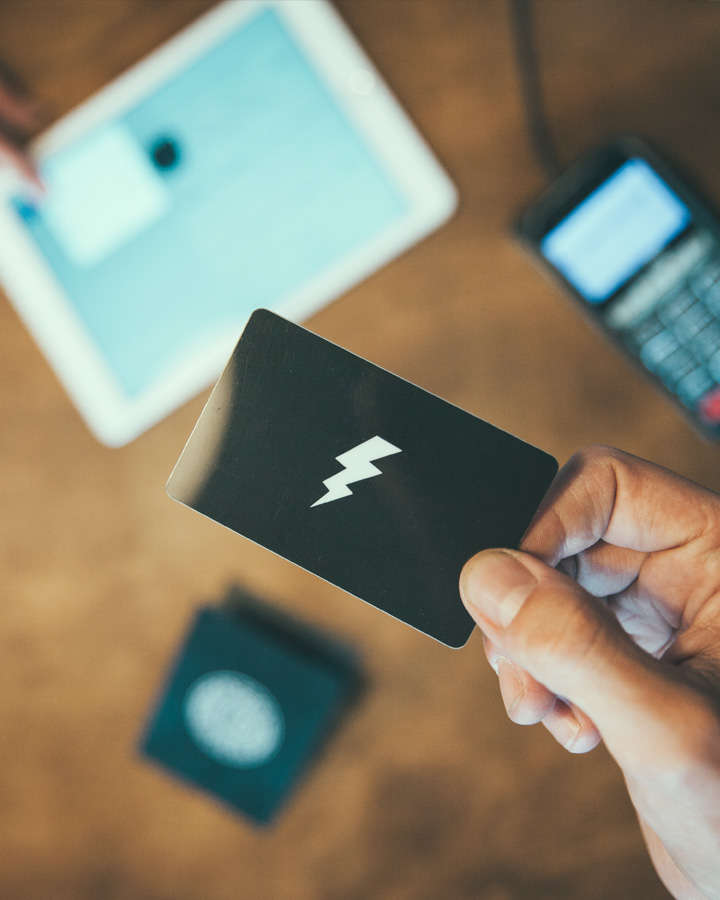 STILL UNSURE?
GO WITH A GIFT CARD
With a wide selection of classic lifestyle brands including our own Steeltown brand, Deus Ex Machina, Levi's, Herschel Supply and Red Wing Boots as well as premium motorcycle gear, hardcover books and vintage art; a gift card will never go to waste.

Each card has our classic lightning bolt and comes with a free glossy sleeve so that you don't even need to buy a separate card. Best of all, they never expire and can be used to buy anything in the shop (even our coffee!).

Just place your order and we'll send the gift card and sleeve out to you.
GET A GIFT CARD