JUST SCRAPING BY
Clay and his patina-rich 1949 Dodge Coronet Lowrider.
"This was the best Dodge sedan you could get in 1949," says our buddy
Clay
, a long-time Steeltown customer and a contemporary art advisor and strategist here in Hamilton. He is, of course, talking about his 1949 Dodge Coronet Sedan with Fluid Drive.
It was on a 2016 Kawasaki Z1000 that we first met Clay. That day he pulled up out front of Steeltown looking for coffee. Probably wearing a sweet pair of green Jordans that matched his Kawi and a rad Santa Cruz skate tee.
It wasn't long before we started talking about what was lurking in the feed of our Kijiji favourites. His were all 40s, 50s, and 60s sedans with equal parts rust, chrome and attitude. All waiting patiently, for over half a century now, to be dropped to the ground and slid around town.
We recently had the pleasure of catching up with Clay and his lowrider-in-progress up at
Commonwealth Chassis Works
in Cambridge, Ontario, where much of the work on the mid-century resto-mod was done.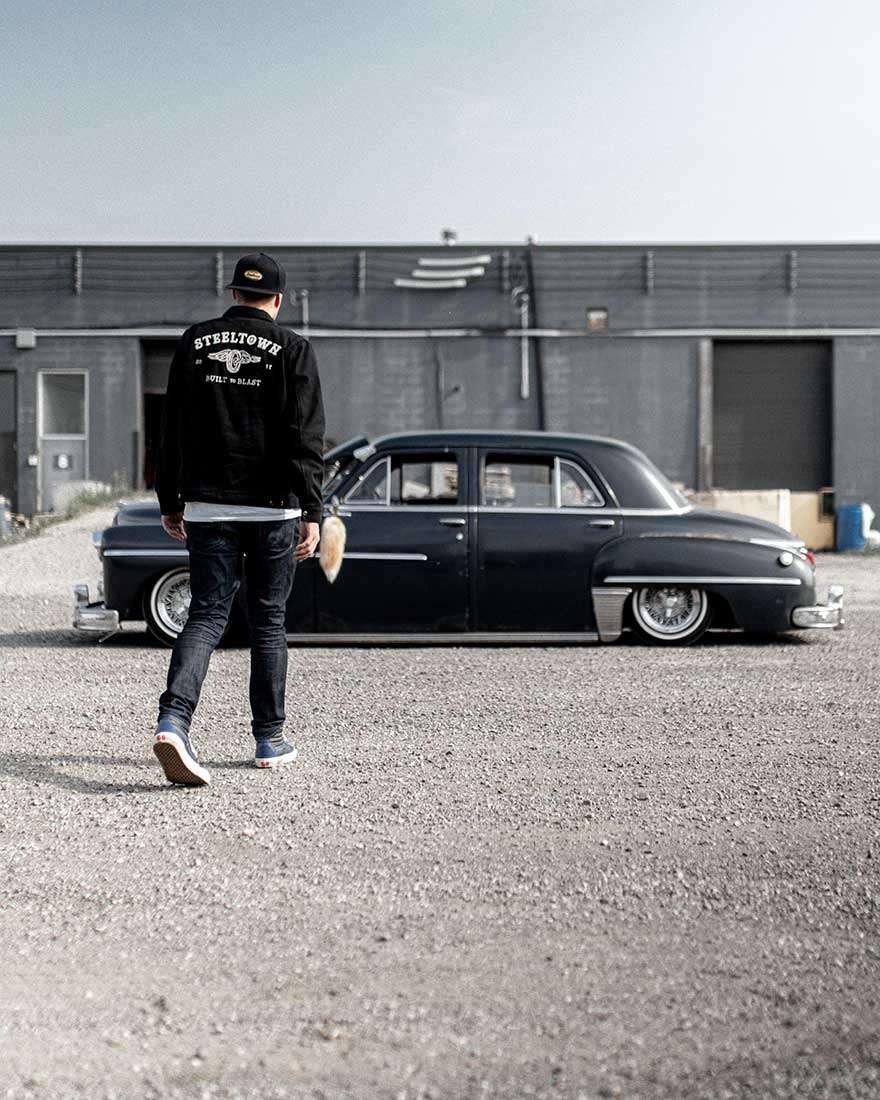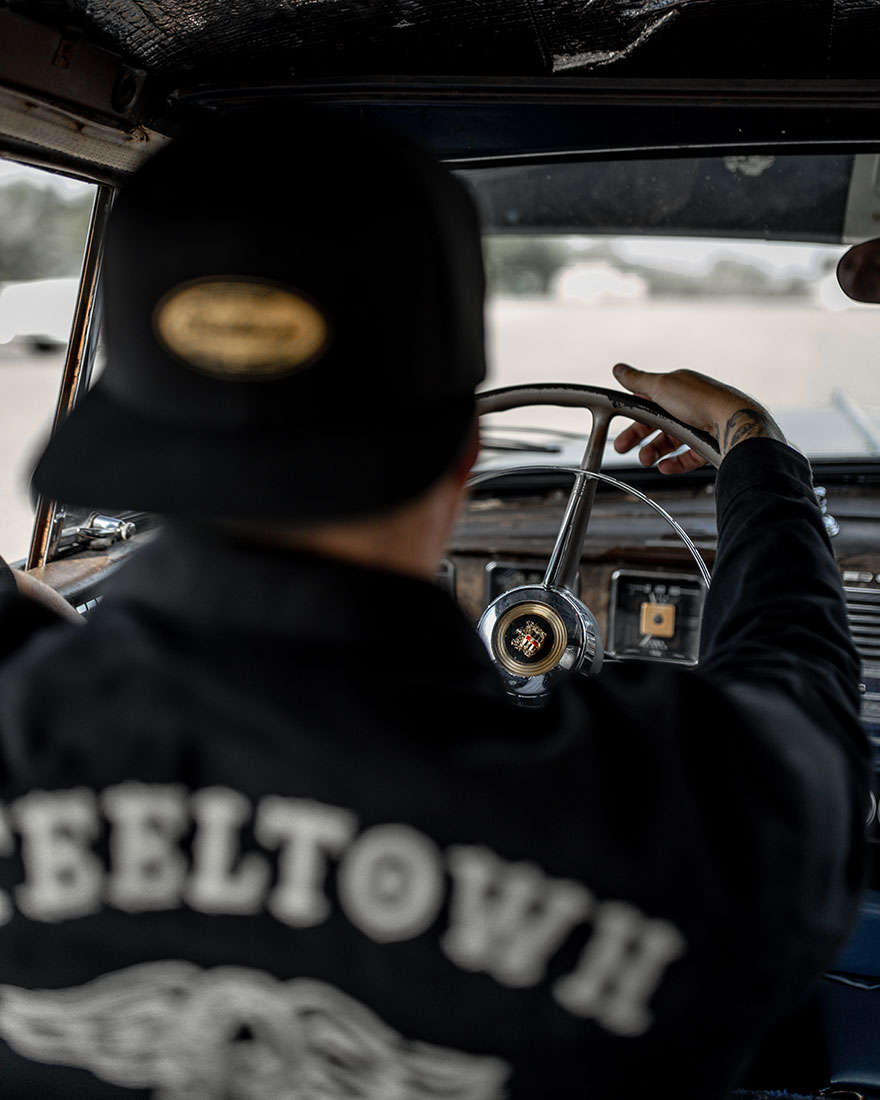 The 1949 Coronet was, with the Wayfarer and Meadowbrook, one of the first Dodges with distinctive names. There was really just one Dodge car at the time, wearing three names to show which trim level buyers had chosen. The Coronet, as one may expect (a coronet is a small crown worn by royals and aristocrats), was the top of the line.

The Coronet ended up running for seven generations before giving way to the beastly Polara. The Coronet name was reintroduced on intermediate-sized models between 1965-1976. Muscle car versions were available starting in 1965 with the 440 cu in (7.2L) Chrysler RB engine, followed in 1966 by the powerful 426 cu in (7.0L) Chrysler Hemi. Other performance models included the famous Superbee that featured the 383 cu in (6.3L) Magnum.
Were you looking for a Coronet specifically? Or just any rad AF mid-century tank that you could put on bags?
I had a silhouette in mind that I was looking for to make a bomb (30's-40's lowrider). and I happened to come across this car in a barn at a peach farm in Lincoln, at a really good price ($4800). It drove, it safetied with minimal work, and it fit lowrider silhouette. Whenever I look at a car, I instantly google "year, car brand, lowrider" to see how it looks. This one worked well.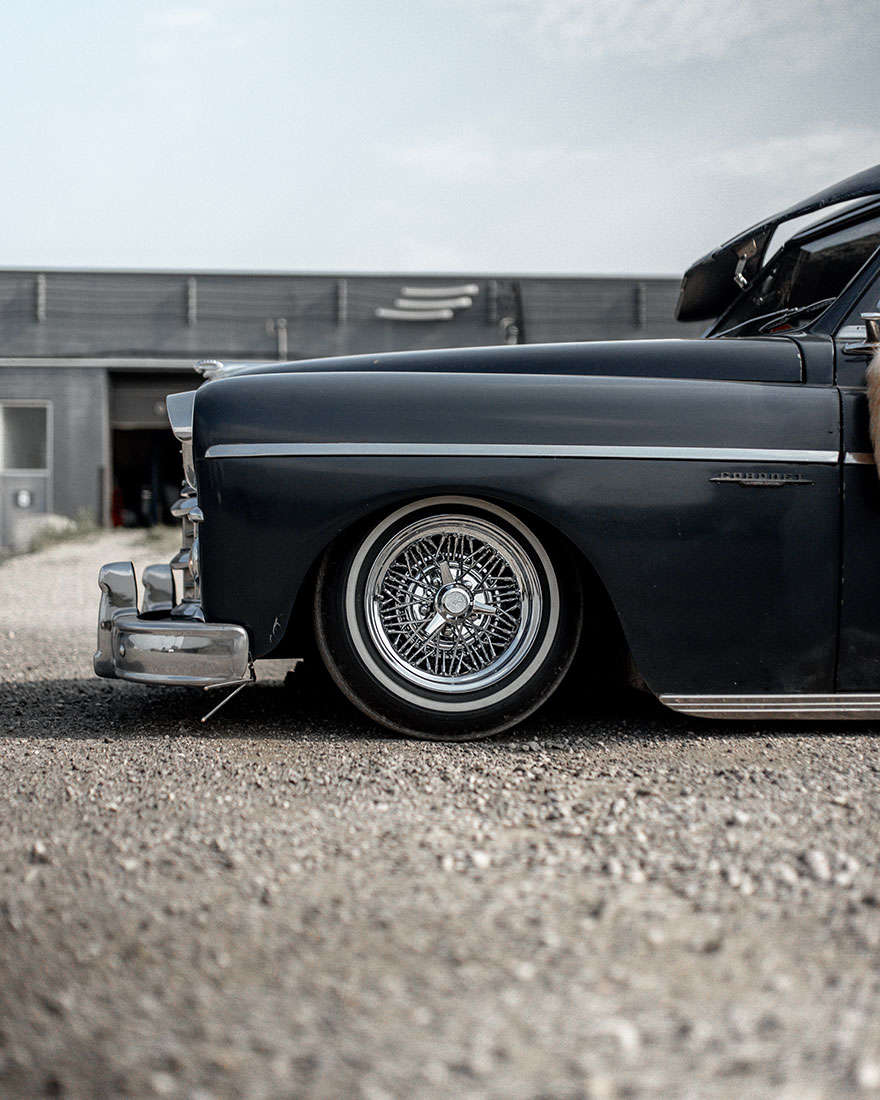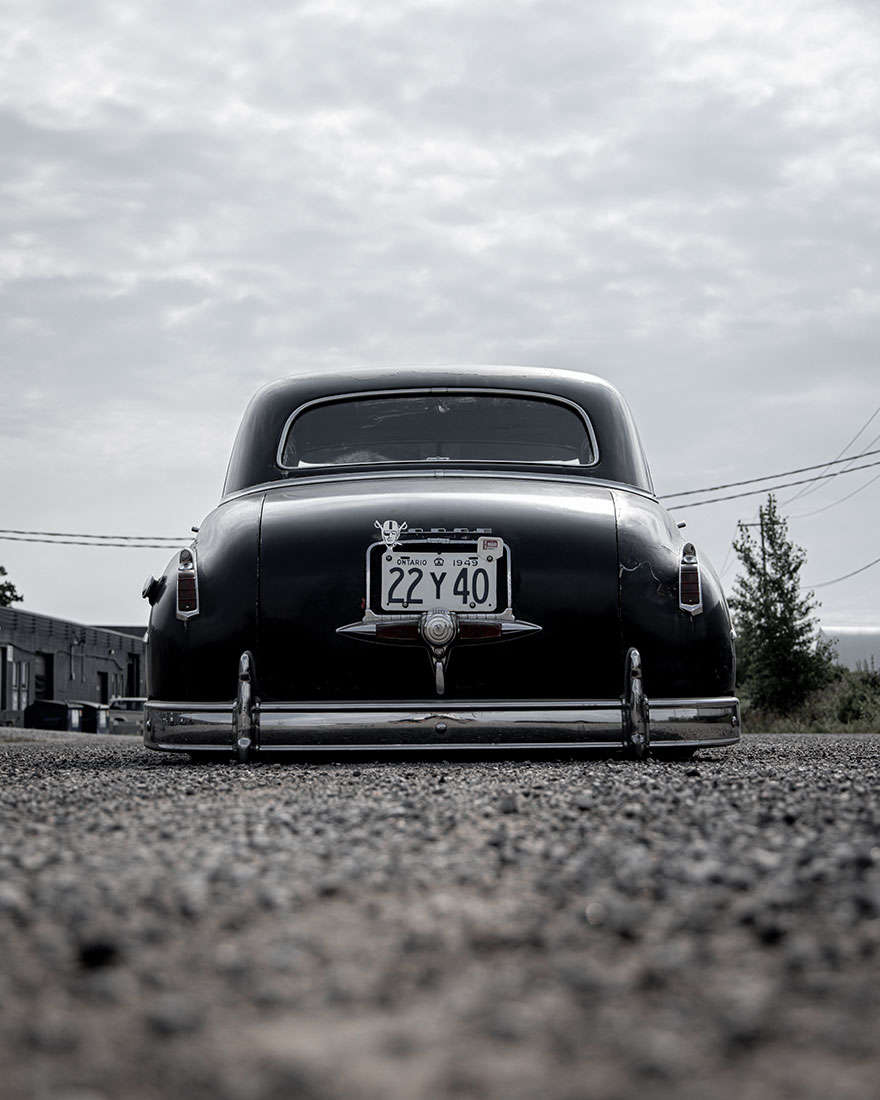 When we first talked about the Coronet, you were gonna do a full paint job on it. What changed?
YOU DID, JEFF. You and a lot of people had convinced me to wait on it. I was going to make the paint shine right away, 2 tone, airbrush the entire car, panel pinstriping, full chrome, but you convinced me to wait it out, as it can never go back to original. So now, its just last on the list after engine, interior, trunk, chrome.
What have you done to the Coronet since you got it?
Scot at
Commonwealth
did a 12v conversion, while Jay mapped, fabbed and installed a full air ride setup, added two 485C Viair compressors, two tanks, 3/8" lines, and a Slam Specialties manifold/controller. A fully custom engineered four link suspension and re-fabricated front control arms. Lots of great work by the guys at Commonwealth.
Added 14" True spoke 50 spoke wheels, and coker 5.20's. And custom original radio from R&B radio (they fabricate original radios and make them all voice controlled, bluetooth, etc.)


And much more to come over winter.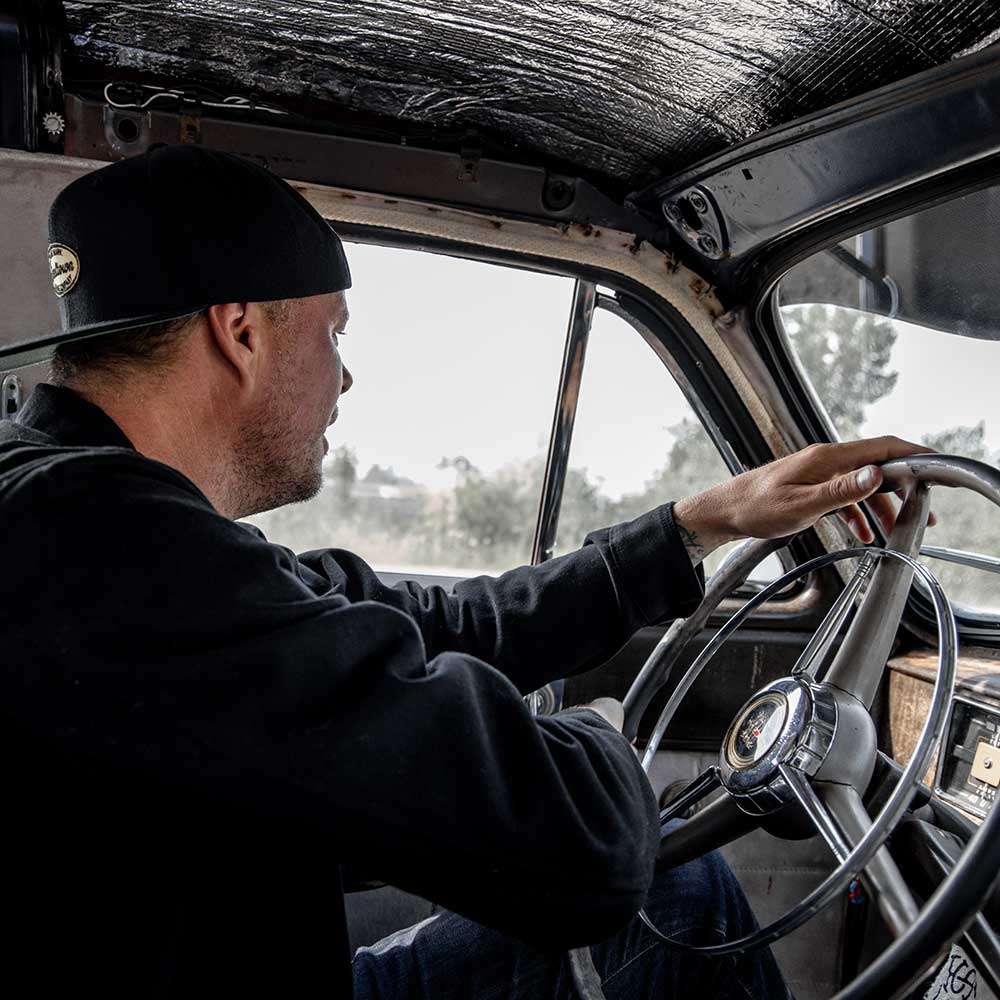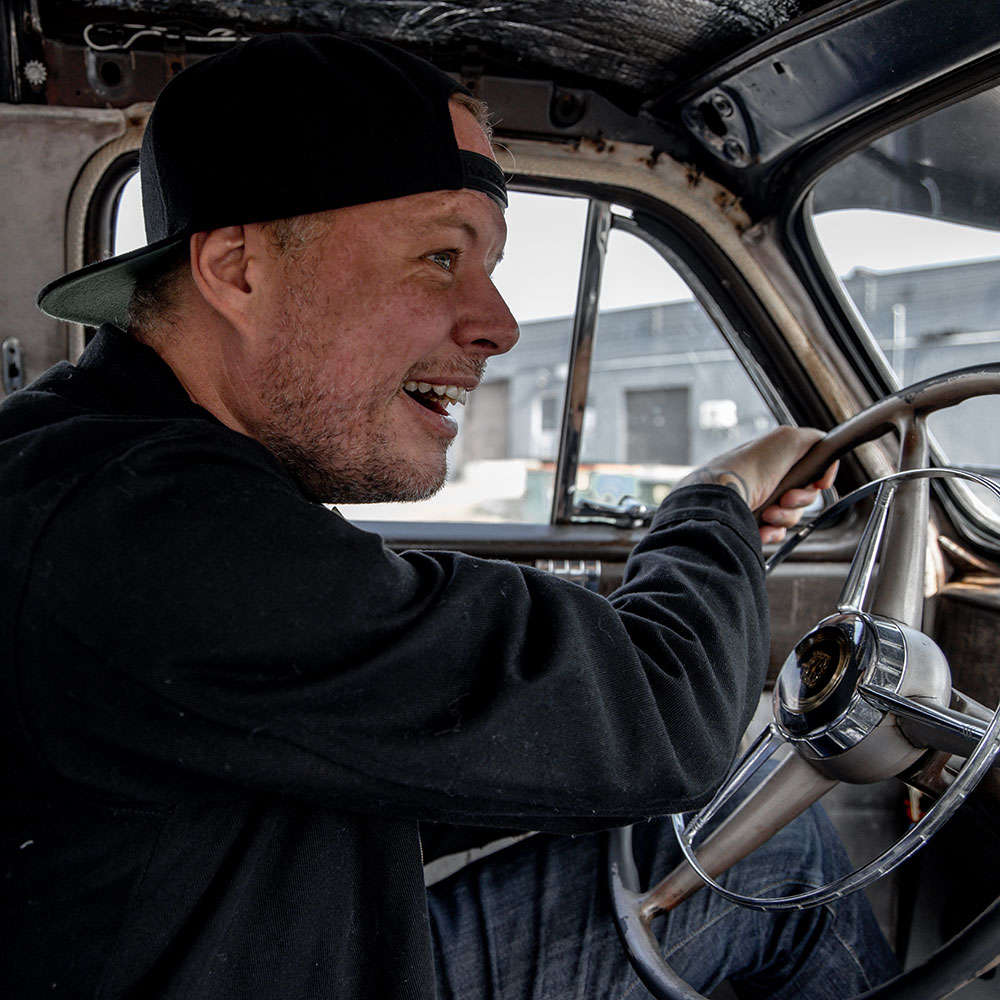 What are your plans with the Coronet over the next few years (including the engine swap after we blew it to bits doing donuts in the gravel)
Haha, yeah that was fun right? DID IT FOR THE GRAM.

I just bought a rebuilt 1953 Chrysler 265ci engine with high lift cams, custom casted racing dual carbs, and an overdrive transmission from a 1940 Plymouth that all comes from George Asche Jr in Pennsylvania. He's a legend in old mopar racing, 89 years old and still doing his thing: making flatheads fast.

So this new engine is more than double the horsepower from the stock, and the OD transmission means I'm still OG but I can take her fast as I need to. I really wanted to keep it period under the hood, retain the soul of the car but do the enhancements that they might of in the 50's... Just have to update the brakes.

Then I have everything to do the interior. Going all blues, paired with oxblood red leather seats and a red resin cast steering wheel by Steering Wheel Kris is en route. Going to update the trunk, shave everything and make it chrome, hardlined, and clean. Last but not least, body work: two-toned and a full airbrush paint job and pinstriping.

It's supposed to be a 5 year plan, and I've had the car 15 months. Im way ahead of schedule...